VAT ATTACK
Massive savings now available with VAT equivalent off entire KTM Enduro range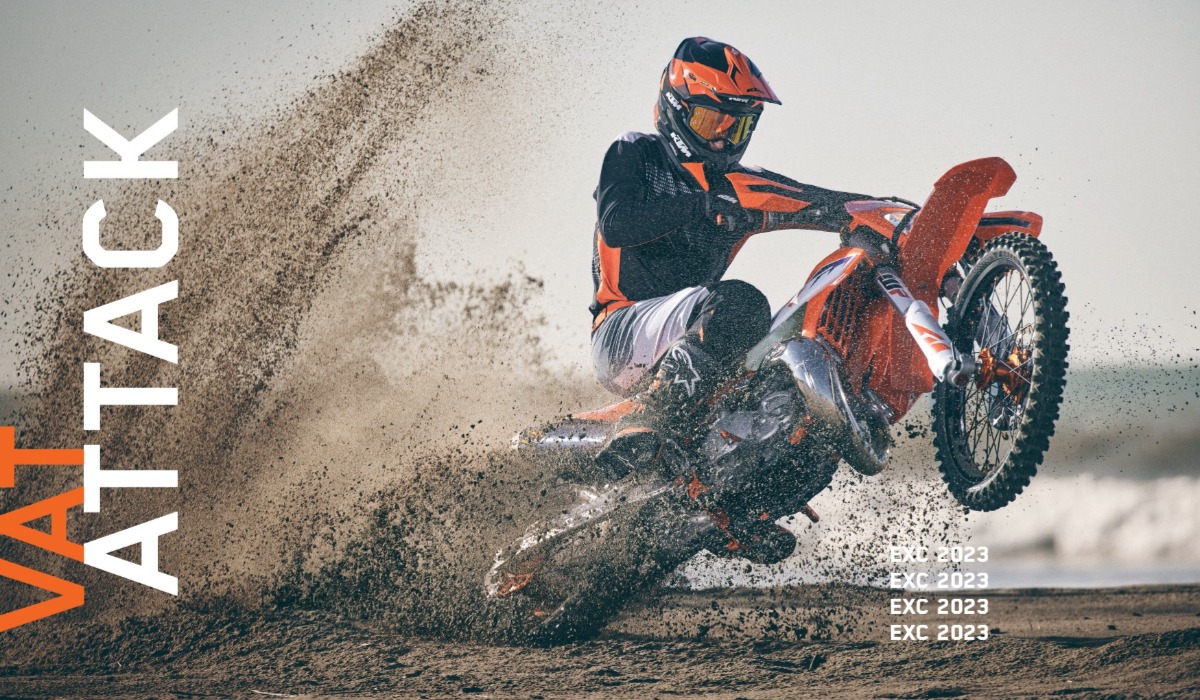 KTM's EXC models are class leaders. They have the arsenal to conquer the most extreme terrain and the reputation for doing it fast. The 2023 range takes things to a whole new level, making it the most competitive, race refined ENDURO package on the market – the ultimate weapon for those wanting to push their limit.
And the limit to enter this world has just been drastically lowered thanks to KTM POWERDEALS – with the VAT equivalent saving* to be made across the entire KTM MY23 ENDURO range – two stroke and four stroke. From the potent KTM 150 EXC to the domineering KTM 500 EXC-F – and all SIX DAYS and ERZBERGRODEO models in between – there has never been a better time to make your move.
With massive savings of up to £1,795 now is the time to strike and to upgrade your ride in the best possible way. And if you want to try before you buy, head to the KTM Experience Partner where a range of MY23 EXC machinery is on offer over the course of a brilliant day in the saddle – see www.adysmith.co.uk for more.
MY23 VAT FREE* KTM ENDURO PROMOTION
KTM MY23 ENDURO MODEL
SAVINGS
VAT FREE* PRICE
150 EXC
£1,478.33
£7,391.67
250 EXC
250 EXC SIX DAYS
£1,533.33
£1,645.00
£7,766.67
£8,225.00
300 EXC
300 EXC SIX DAYS
300 EXC ERZBERG RODEO
£1,603.33
£1,686.67
£1,795.00
£8,016.67
£8,433.33
£8,975.00
250 EXC-F
250 EXC-F SIX DAYS
£1,620.00
£1,703.33
£8,100.00
£8,516.67
350 EXC-F
350 EXC-F SIX DAYS
£1,661.67
£1,753.33
£8,308.33
£8,766.67
450 EXC-F
450 EXC-F SIX DAYS
£1,678.33
£1,761.67
£8,391.67
£8,808.33
500 EXC-F
500 EXC-F SIX DAYS
£1,695.00
£1,778.33
£8,475.00
£8,891.67
*VAT Free pricing refers to the removal of the VAT element from the suggested retail price. VAT will be paid on the promotional price of the motorcycle. Cannot be used in conjunction with any other promotion. We reserve the right to withdraw this offer at any time. Offer only applies to model year 2023 machines. This offer is available at all participating Authorised KTM UK Dealers, while stocks last.